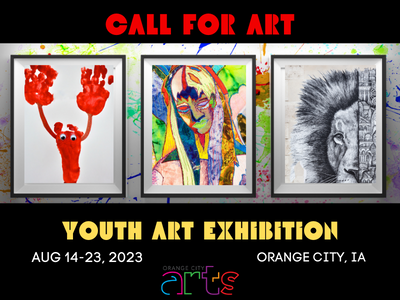 Call For Art- 2023 Youth Art Showcase
Orange City Arts Youth Art Showcase offers an opportunity for young artists to exhibit their work August 14 – 23, 2023, at the Stadscentrum Building in downtown Orange City IA. Local artists between the ages of 6 to 17 years old, residing within a 40-mile radius of Orange City, IA are invited to submit work to the juried exhibition. There is no entry fee or theme. Prizes for Best of Show & Honorable Mention will be given in each age category.
SUBMISSION DEADLINE: August 7, 2023, by midnight CST
VENUE: Stadscentrum Building, 201 Central Ave, Orange City, IA 51041 (next to Crafts Central)
For more detailed information and to submit artwork, visit the FAQ page or click on the 'Enter Show' button. Questions? Contact us at 712-707-4510 or email info@orangecityarts.org.