2023 Youth Art Showcase
Orange City Arts Youth Art Showcase offers an opportunity for young artists to exhibit their work August 14- 23, 2023, at the Stadscentrum Building in downtown Orange City IA. Local artists between the ages of 6 to 17 years old, residing within a 40-mile radius of Orange City, IA are invited to submit work to the juried exhibition. Prizes will be awarded to Best in Show and Honorable Mention in each age category.
SUBMISSION DEADLINE:  August 7, 2023, by midnight CST
VENUE: Stadscentrum Building, 201 Central Ave, Orange City, IA 51041 (next to Crafts Central)
For more detailed information and to submit artwork click the button below.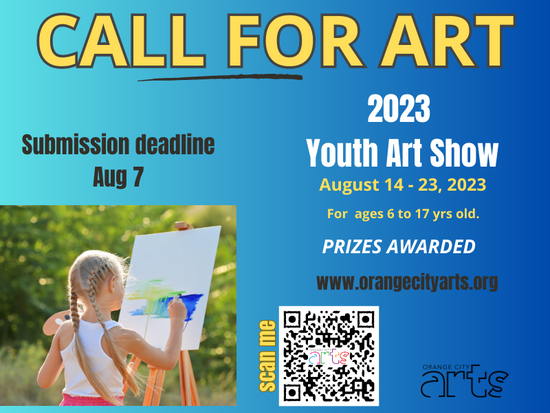 Orange City Arts sponsor a juried regional art show featuring work from artists around the region. Around 25-30 pieces of artwork are chosen to be displayed in Orange City, with awards for Best in Show and Honorable Mention.
The 2023 Regional Art Exhibition: Primary Colors will be held June 5-21 at the downtown Stadscentrum building to correlate with the start of our summer OnStage Program. The juror for this year's show is local artist Rein Vanderhill.
View the 2023 Regional Art Show online gallery
2023 Regional Art Exhibition Award Winners
iThe 2023 Regional Art Show: Primary Colors featured 31 works by local and regional artists from. The closing reception took place at the Stadscentrum building on June 21. Juror and local artist Rein Vanderhill presented the awards along with Emie Andrulewich, Co-Director. The 'Best in Show' was awarded to Ryan Eckert from Sioux Center, IA, for his piece Trapped Clouds, and the 'Honorable Mention' award went to Brian Joel Damon for Introspective Intensity.

Show Dates for Summer 2023
2023 Regional Art Show, June 5 - 21, 2023
July 2023 - Uliia Popova
August 14 - 23- Youth Art Show - Arts on Central
Featured Artist at Stadscentrum
July 2023 - Yuliia Popova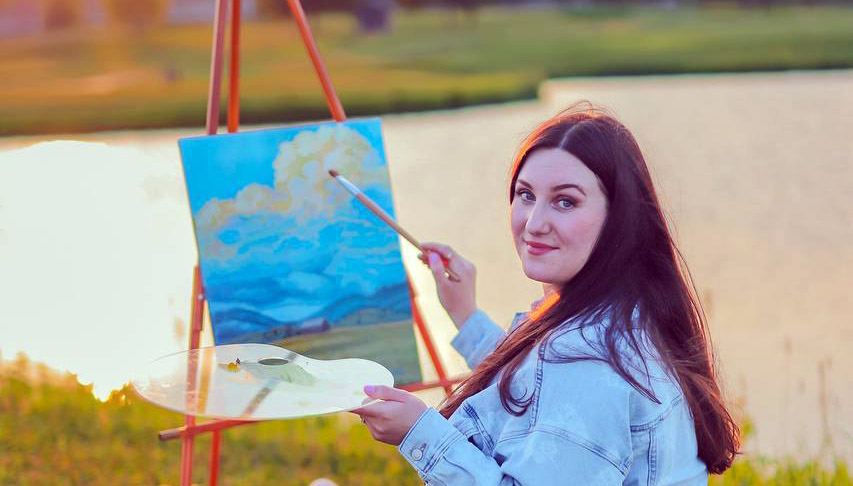 Orange City Arts is hosting a show for local artist Yuliia Popova on July 5 - 19, 2023.
Since childhood, Yullia has felt a vocation and love for painting. Her artistic career began at the Art School in Poltava in 2004-2010 and then continued at the Poltava National Pedagogical University named after V.G.Korolenko, Department of Psychology and Pedagogy, Department of Fine and Decorative Arts (2010-2015). She has been a winner of many all-Ukrainian and regional painting contests and competitions. Since 2015, Yuliia has been working as a methodologist for visual arts in the Poltava regional department of educational institutions of Culture and Art and as a painting, drawing, and composition teacher at Chutivtsi Children's art school. In addition to teaching, she took an active part in the activities of the city's creative community and was a member of the jury of many regional children's competitions.
Yuliia's work is currently on display from July 5 to July 19 inside the Stadscentrum building located on Central Ave in downtown Orange City, IA . Several pieces of work are also for sale. You can follow Yullia's work on Instagram at @yulia_popova25.
Viewing Hours:
July 5 (5 – 8 pm), July 7 (noon – 4 pm), July 12 (5 – 8 pm), July 13 (5 -7 pm)
Check back for hours the week of July 16.
Opportunities:
Featured Artist at Stadscentrum
Orange City Arts has an excellent opportunity for artists to show their work and make some sales this summer at Stadscentrum in downtown Orange City in conjunction with our free OnStage summer concert series. Art shows occur the first week of the month, highlighting our 'First Wednesdays' program from 5 - 8:30 pm. Our OnStage programs typically draw crowds of approximately 300+ people to our concerts, except for Arts on Central, which attracts upwards of 1000+ people.

Venue: Stadscentrum 207 Central Ave, Orange City IA (next to Craft's Central)
Use Orange City Arts' pro panels and lights (36 x 70 in panels, up to 6) for an inside display.
Opportunity to use the area inside/outside Stadscentrum for art sales/booth that coincides with your show during the first Wednesday program, 5 - 8:30 pm.

Option for workshops, artists' talks or craft

activities are also welcomed.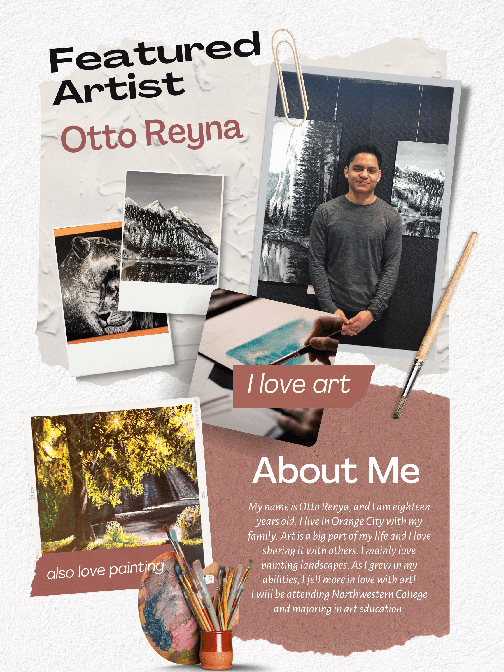 Qualifications:
Artists with original 2D or 3D fine artwork must submit a portfolio of work to be displayed along with a biography or curriculum vitae. Prints or reproductions of original artwork are allowed. Examples of acceptable mediums for consideration are paintings, ceramics, fiber art, metal art/jewelry, mixed media, sculpture, etc.
Email artwork images (jpg, png, tiff, pdf) and biography and contact information to Emie Andrulewich, Co-Director, at info@orangecityarts.org. Online portfolios are acceptable. Please include a link to the website in your email.
Become a Member
For all visual, performing, literary, and musical artists! Enjoy these yearly benefits:
Listing on our online Artist Directory
Invitation to OCArts sponsored artist shows and performance opportunities
Opportunity to be a Featured Artist with OCArts
Opportunity to perform at OnStage events
10% Event Admissions
10% Off Merchandise