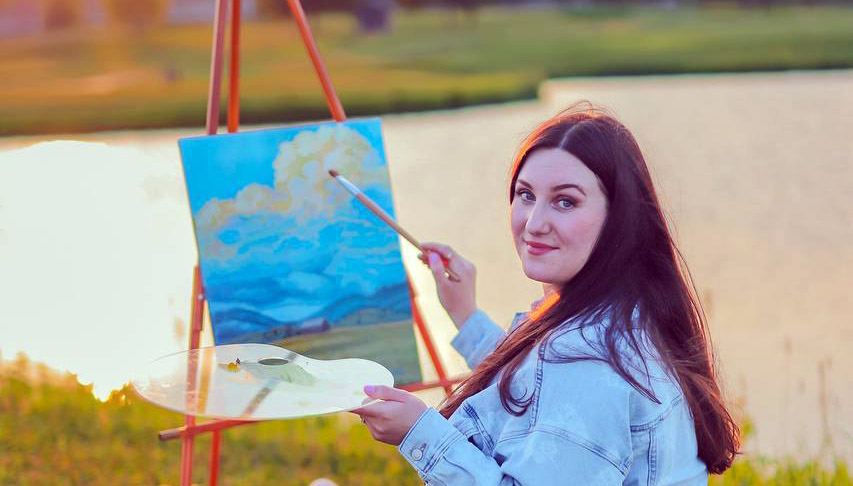 Featured Artist Yuliia Popova
Orange City Arts is hosting a show for local artist Yuliia Popova on July 5 – 19, 2023.
Since childhood, Yullia has felt a vocation and love for painting. Her artistic career began at the Art School in Poltava in 2004-2010 and then continued at the Poltava National Pedagogical University named after V.G.Korolenko, Department of Psychology and Pedagogy, Department of Fine and Decorative Arts (2010-2015). She has been a winner of many all-Ukrainian and regional painting contests and competitions. Since 2015, Yuliia has been working as a methodologist for visual arts in the Poltava regional department of educational institutions of Culture and Art and as a painting, drawing, and composition teacher at Chutivtsi Children's art school. In addition to teaching, she took an active part in the activities of the city's creative community and was a member of the jury of many regional children's competitions.
The artist's homeland Ukraine, a country with a turbulent fate, has deep roots in ancient times. Ukraine is about 1200 years old, and historical changes have shaped the modern state and its identity. Ukraine is a fertile, fruitful, and prosperous land. Over the centuries, her homeland has been under pressure from different sides, and she hopes for a prosperous future for Ukraine.
Yuliia states, "After the war began, living, working, and creating became almost impossible. My husband Vova and I are eternally grateful to God, the First Reformed Church, and the family of Brian and Patty De Kock for the opportunity to feel safe and feel the hospitality of America and the love of God. America will always be the country that sustained me through the most challenging times. America suddenly became the fertile ground on which my art began blossoming with the colors you see in my paintings. My dream is for my images to vibrate with the inspiration of nature and flowers, with the grandeur of all the beauty created by God."
Yuliia's work is currently on display from July 5 to July 19 inside the Stadscentrum building located on Central Ave in downtown Orange City, IA . Several pieces of work are also for sale. You can follow Yullia's work on Instagram at @yulia_popova25.
Viewing Hours:
July 5 (5 – 8 pm), July 7 (noon – 4 pm), July 12 (5 – 8 pm), July 13 (5 -7 pm)
Check back for hours the week of July 16.