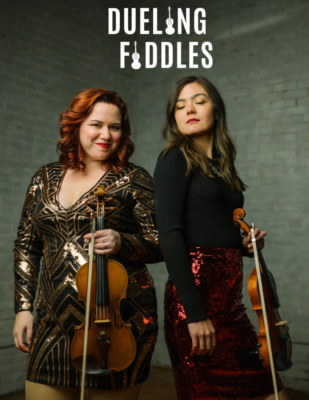 Dueling Fiddles to perform Wednesday July 20
Geneviève Salamone and Hanna Wolle make up the entertainment duo called Dueling Fiddles. The two violinists energetically mix the rich sounds of the violin for an entertaining performance. Playing everything from modern pop, classical music, to celtic rock, the Dueling Fiddles create music that all ages will enjoy.
Hanna Wolle is from Des Moines, Iowa and has established an impressive musical career. Beginning the violin at the age of four, Wolle emerged as a talented musician. At just fifteen years old, Wolle won a seat in the first violin section of the Des Moines Symphony. This named her the youngest violinist in the orchestra's history. She is still currently playing for the Symphony and maintains her seat as first violinist.
Geneviève Salamone earned her spot on the Des Moines Symphony after attaining her bachelor's degree in violin performance from McGill's Schulich School of Music in Montreal, QC. Salamone was inspired by the term "One Man Band" as she merges technology with the classical sound of the violin. Now, she claims the title of a "One Woman Symphony."
Geneviève and Hanna met on the Des Moines Symphony, where they got connected as stand partners. With their passion for music and shared desire to explore the boundaries of it, the two started Dueling Fiddles. It began as a project and has now morphed into a main stage performance act. The two musicians have now performed all over the Midwest together. Recently, they have had shows at the World Food and Music Festival, Bacon Fest and CelbrAsian. They perform over 75 events per year including weddings and corporate events as well.
Orange City Arts is thrilled to welcome the two artists to the stage on Wednesday, July 20. They will perform at 7:00 p.m. in Windmill Park. Be sure to come out and experience the entertaining Dueling Fiddles!