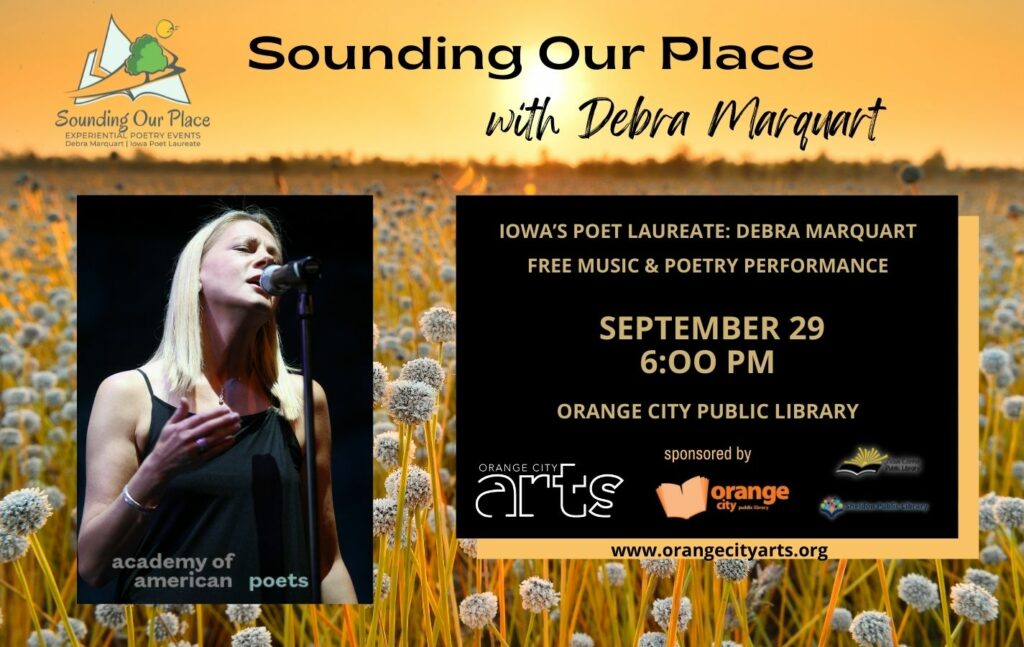 Iowa's Poet Laureate Debra Marquart to Perform in Orange City
Orange City, IA – Iowa's Poet Laureate, Debra Marquart, will perform at the Orange City Public Library on September 29, 2022, at 6 pm. 
In partnership with the Orange City Public Library, Orange City Arts will host a free musical performance and poetry reading by Debra Marquart, a distinguished Professor of Liberal Arts & Sciences at Iowa State University. Marquart teaches in the MFA Program in Creative Writing and Environment and serves as Iowa's Poet Laureate and the Senior Editor of Flyway: Journal of Writing & Environment. Marquart's performance is a part of the program 'Sounding Our Place,' a proposed series of experiential literary events that pair an interest in place, the natural world, and environmental issues with poetry/storytelling, songwriting, and creative writing workshops. These events will be planned around the state of Iowa and designed to reach communities in the rural corners and urban areas of the state that do not generally receive attention in arts programming to encourage creative expressive arts.
A memoirist, poet, and performing musician, Marquart is the author of seven books, including an environmental memoir of place, The Horizontal World: Growing Up Wild in the Middle of Nowhere, and a collection of poems, Small Buried Things: Poems. Marquart's most recent book, The Night We Landed on the Moon: Essays Between Exile & Belonging published in 2021.
Marquart's work has been featured on NPR and the BBC and has received over 50 grants and awards, including an NEA Fellowship, a PEN USA Award, a New York Times Editors' Choice commendation, and Elle Magazine's Elle Lettres Award. Marquart teaches in Iowa State University's interdisciplinary MFA Program in Creative Writing and Environment and the Stonecoast Low-Residency MFA Program at the University of Southern Maine. Sounding Our Place events are made possible through the Academy of American Poets, Poets Laureate Fellowship.
To learn more about Debra Marquart and her writing, visit her website at https://debramarquart.com/.