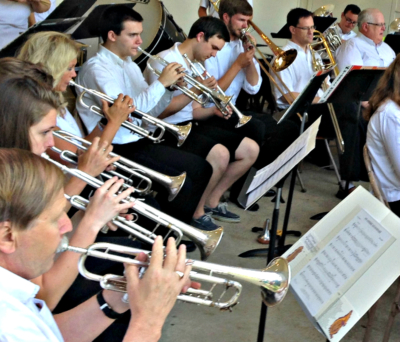 Community Band to Take the Stage on June 15
Orange City Arts OnStage event, Community Band, will perform June 15 at 7:00 P.M. in Windmill Park. The Orange City Area Community Band is a group of local musicians under the direction of Dan Mangold, MOC-FV High School's band director. They have performed for OnStage many times and are an important part of the program. This Wednesday at Windmill Park, they will share a variety of different music. The band typically plays anything from big band hits to movies and show tunes to patriotic songs with a personal touch. 
The band practices once a week and the members even get paid for their participation both in the rehearsals and performances. Additionally, they have an impact on the community and OnStage program. As they share their passion for music with both each other and their audiences, members get a fulfilling and rewarding experience.
Community Band has about thirty members strong who have a wide range of abilities and ages. Having musicians with different experiences and levels creates a unique challenge. Even with the diversity among the group, they share the philosophy that music is something that can continue to be a regular part of everyone's lives. Whether it is a familiar and traditional song or a new and modern song, music is something that can truly connect everyone and tailor to every type of audience. 
Come join the community on Wednesday the 15th to hear the liveliness and fun that Orange City's Community Band will present. The concert is free and suitable for all ages!