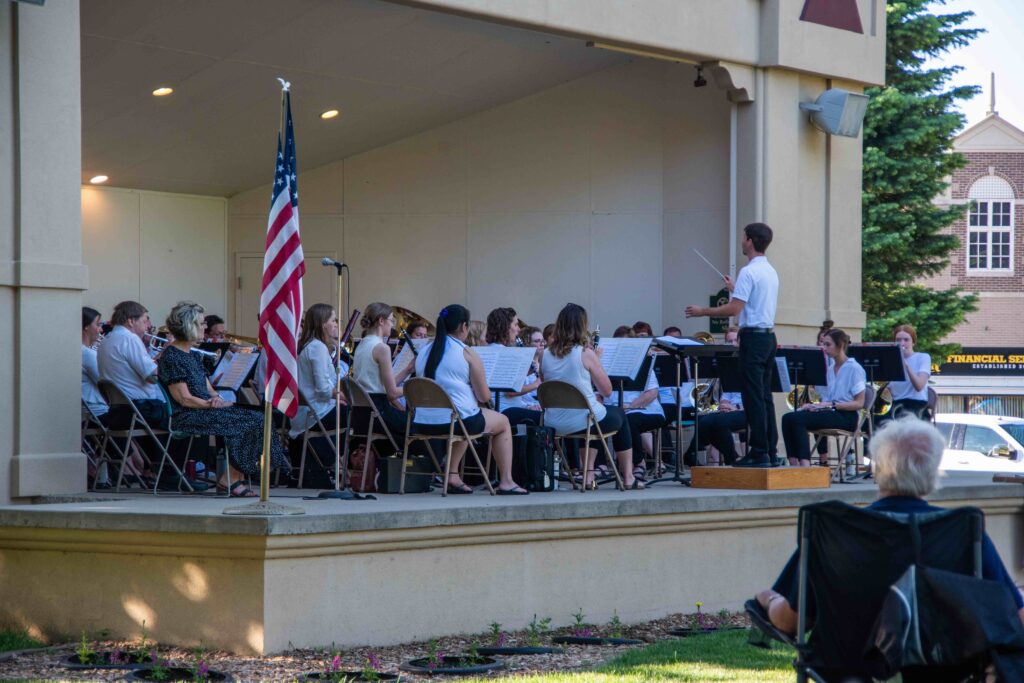 Community Band to Perform July 13
The Orange City Area Community Band, a favorite of many Northwest Iowa residents, is performing a couple more times before the end of the summer! This group of local musicians will take the stage at 7 pm on Wednesday, July 13 in Windmill Park. Bringing classic hymns, musical masterpieces from movies and show tunes, and personalized patriotic songs perfect for the month of July, Community Band has a lot to offer its audience.
The band is under the direction of Dan Mangold who is also the MOC-FV high school band director. He leads the musicians in weekly rehearsals and band members even get paid for their participation in both rehearsals and performances. The OnStage program has allowed the band to get on its feet and has created awareness for local instrumentalists who want to play in a band and stay sharp on their musical talent.
The wide range of abilities, levels, ages, and backgrounds of the Community Band members create a diversified group that composes and covers a variety of songs. Come to Windmill Park at 7:00 pm to support this local group and to get a taste of a cheerful Orange City summer night.
July 13 will also be recognized as the City of Orange City Appreciation Day which will provide another perfect opportunity to celebrate. Food will be provided from 5 -7 pm at Windmill Park.
Stay tuned for updates on our website or social media pages regarding the rest of the OnStage season. Many exciting events like this one are coming up!