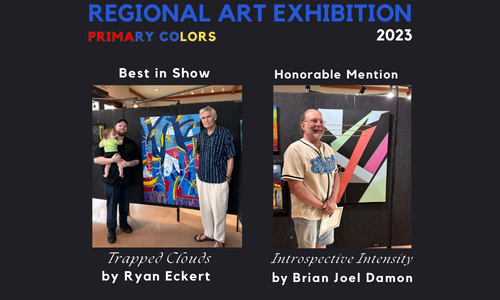 2023 Regional Art Exhibition
The Orange City Arts 11th annual artist's showcase, 2023 Regional Art Exhibition: Primary Colors, runs June 5 – 21, 2023, in Orange City, IA. This year's theme is titled 'Primary Colors,' in which at least one of the primary colors (red, blue, yellow) is used as a primary artistic element. The show features thirty-one works of art which will be displayed at the Stadscentrum building in downtown Orange City.
This year's juror for the show is a local artist and Professor Emeritus of Art at Northwestern College Rein Vanderhill. The closing reception was held on Wednesday, June 21, where awards were given to Ryan Eckert, Best in Show for 'Trapped Clouds' and to Brian Joel Damon, Honorable Mention for 'Introspective Intensity'.
The show is still available to view online here.